Past and Future Projects
In the last 18 months myself and Alan Kerr have completed two films. "Reflection" (2011) funded by Stirling Council and "Inside Out
: Emma Scott-Smith Documentary" (2012)
SMHAFF
in association with The Edinburgh Film House
.
Currently we are working on a series of three films to be shown as part of a joint exhibition at The Changing Rooms, The Tollbooth
, Stirling. The exhibition will be held in the latter of 2013 and will concentrate on societies
social constructions surrounding
contemporary and graffiti art, it's legality and illegality, the signature
, the tag and persona artists create or adopt within specific art forms. Thus, we hope that the exhibition will inspire critical discussion and feedback whilst also educating children about art and what it means within various differing contexts, Society, Artist, Audience, and Critic.
REFLECTION, a short film (2011)
Please checkout this performance art film, directed, written and performed by Alan Kerr and Emma Scott-Smith featuring a quote from Paulo Freire, published in Pedagogy of The Oppressed (1973). Reflection was funded by Stirling Council and will be shown on large scale plasma screens throughout Stirling, The Changing Room: Art Gallery and The Tollbooth Venues during June, July and August 2011.
The Insideout Project 2012
Emma's artwork is part of a global art venture, Inside Out, a large-scale participatory project which aims to turn the world 'inside out' by sharing stories of personal identity through large black and white posters.
Launched by JR, an anonymous French artist who called for people around the world to use the project to "stand up for what [they] care about", Inside Out artworks are characteristically large scale, attention-grabbing and installed in conspicuous areas.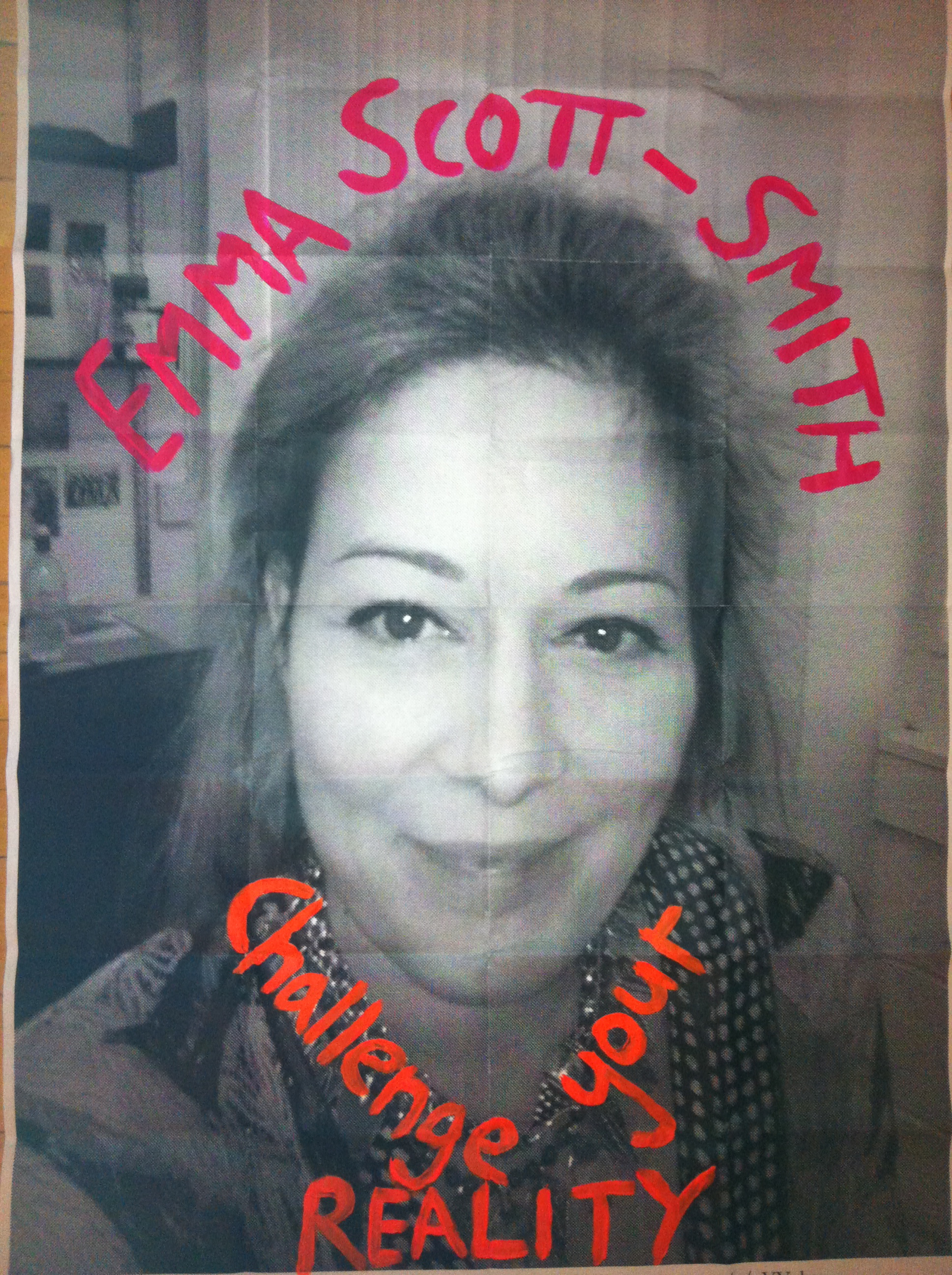 The Poster will be displayed outside the Logie Lecture Theatre on the Stirling campus from 31 August until 14 September, during which time all are welcome to visit and engage with the artwork.The poster's very public position demands attention and will encourage people to reflect on their prejudices. The more people are introduced to different personal stories, the more familiar they become with the unfamiliar. Emma might not change people's attitudes overnight, but she is taking an important first step in making people think twice and encouraging those from minority groups to share their stories with others.
The Insideout: Documentary of Emma Scott-Smith by Alan Kerr & Emma (2012) was shown at The Edinburgh Film House on Monday 8th October 2012, with Question & Answer Session by Eddie Harrison after the film was shown as part of The Scottish Mental Health Arts & Film Festival. View Film Short Below on Youtube.
http://www.youtube.com/watch?v=_OOHohJHxd0
The Artivism Intervention: Paulo Freire
My research
which involves both art and psychology aims to be libratory
, confront stigmatizing attitudinal responses towards for example disability and mental illness. Thus, aim to challenge
and change dominant socially
constructed attitudes and environments
that disable, stigmatize and oppressive society.Thereby giving voice to minority groups from a community critical psychological ethos.
In brief, Artivism is a pro active, awareness raising practice that aims to challenge social consciousness. Conscientization is different to Artivism as it refers to the process whereby people gain a discerning awareness of social, political, economic and psychological circumstances in changing his or her reality (Martin-Baro, 1996). This awareness can affect individual's daily life whilst also having the potential to transform people's social reality (Prilleltensky, 1994).
"[T]he more radical the person is, the more fully he or she enters into reality so that, knowing it better, he or she can transform it. This individual is not afraid to confront, to listen, and to see the world unveiled. This person is not afraid to meet the people or to enter into a dialogue with them. This person does not consider himself or herself the proprietor of history or of all people, or the liberator of the oppressed; but he or she does commit himself or herself, within history, to fight at their side."
(Freire, 1971)
Freire is not about a society of autonomous individuals with no social consciousness but a society with a joint solidarity, of pro action, engaging in critical thinking with an aim to be transformatory of a new epistemology and reality (Freire, 1973). My research also examines the theoretical under pinning's of conscientization (a concept developed by Freire) and how historically conscientization came into being in part based on a Marxist theory that it is always necessary to 'educate the educator' (Martin-Baro, 1996). Freire (1973) developed the concept of conscientization through drawing upon Marx's liberation theology and theory (Mayo, 2004). In Marx's view the proletariat (citizen) is oppressed via class systems and the power of capitalism which leads to oppression through exploitation. It is the proletariat who needs to displace and revolutionise this system. Martin-Baro's (1996) liberation psychology was developed from Marx's liberation theology and Freire development of conscientization amongst other theorists who got involved in consciousness raising to challenge personal and social oppression to change the world (Parker, 2007).